NEW SHOW FOR 2016
Hormonal Imbalance v2.5
A Mood Swinging Musical Revue
THE ESTROGEN FUELED FUN CONTINUES
BABES GO RETRO!
The Four Bitchin' Babes are an original "Babes Brand" of musical theater with a 25 year career on-stage and in-studio, releasing nine recordings and a full length DVD. These accomplished, seasoned musician-actress-comediennes take turns in the spotlight, filling it with whimsical songs and shtick, presenting the hippest and most luxurious girl group harmonies "evah!" With guitars, bass, piano, and Irish Bodhran, this rollicking renegade sorority of gal pals use their exquisite wit and sophisticated (never blue) humor, creating an amazing evening of Cabaret/Broadway 'esque original entertainment.
Make it a hot night of music and laughs with this anniversary show that celebrates the best of Babes, Boys, and Botox. With an extensive fan base from the advent of social media, and a deep catalogue/discography of hits and fan favorites, this 'Fabulous Female Folkestra' has chosen to celebrate their wildly successful touring escapades, with a special Retro show that shines the spotlight back over 25 years of their most requested songs. It's this "in demand" repertoire of hysterical and endearing songs that has made THE BABES the venerable "original girls' night out" theatre hit they are today!
THE FOUR BITCHIN' BABES ARE, Sally Fingerett, Debi Smith, Deirdre Flint, along with revolving 4th members, Nancy Moran and Megon McDonough. Together they honor and pay tribute to the wacky and hectic lives of men and women with their unbridled comedic commentary. From the hysterical "Bald Headed Men" "My Kinda Man" and "Take Me Out To Eat" to the side splitting "I Remember Butter" "L.A.F.F (Ladies Against Fanny Floss)" & "These Boots Are Made for Walking," the ladies highlight their charm and heart with moving pieces from current and past Babes' members, such as the multi-generational "Pass It On" "Home Is Where The Heart Is" "Unconditional Love" and the Grammy Winning "From A Distance.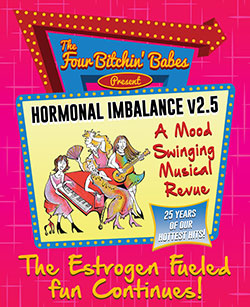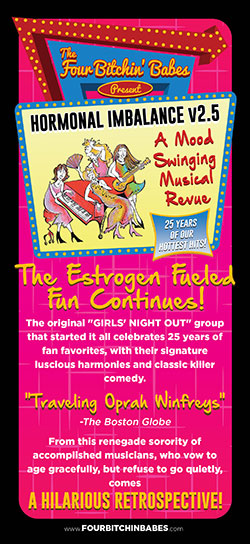 STILLTOURING 2014 
JINGLE BABES!
Decking the Halls with Songs and Folly"
It's a crazy making time of year and yet we love it. Join this Fabulous Female Folkestra for a gala night of luscious harmonies, clever comedy and classy caroling – all in one spirited evening of Shared Musical Traditions. The BABES let loose on winter's holiday season, blending their signature brand of hilarious original music with those festive familiar hits we can't help but sing with! Give your spirit a well deserved gift and join the BABES in celebration of the season of light, from the Christmas tree lights to the Menorah's candlelight, asclassic holiday tunes come to life for all.


"We laughed our antler off!" – Donner & Blitzen

"An enchanting evening of carols, kvelling & comedy in four part harmony!" – Shoshana the Sugar Plum/Latke Fairy
"Jingle Babes."
m

THE BABES' LATEST CD!!!
"MID LIFE VICES
A Guilt Free Musical Revue"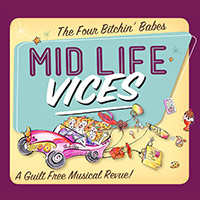 Bitchin' CD number 9!
Continuing to showcase their "BABES" signature brand of estrogen-infused mayhem and award winning songwriting, this Fabulous Female Folkestra creates a new collection of songs from their collective Mid Life Crises and the inherent need for Mid Life Vices!
With acoustic and electric guitars, mandolins, piano, bass, drums (both Jazzy and Irish Bodhran) along with harmonies from heaven, these multi-talented gal pals continue to write and sing about the issues we share, celebrating their sideways glance at satire and comedy with songs dedicated to the passions and misdeeds of our age.  The Babes blend great fun, brilliant harmonies, and first class recording, creating the hallmark of every Bitchin' Babe project.
Welcome to "Mid Life Vices" a celebration of "Whine, Women and Song!"
NEW DATES!

We look forward to sharing a NEW SEASON of stages filled with laughter, stunning instrumentals, Babes' vocals, and many new Babe friendships!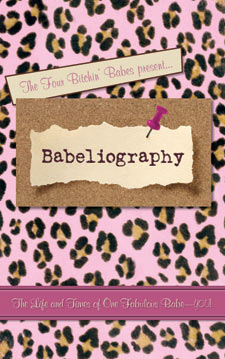 DON'T FORGET…!
Our latest in interactive literature!
A book! That's right, The Babes introduce
"Babeliography - The Life and Times of One Fabulous Babe - - You!"
This self-guided journal is the place for you to keep all that crucial information, such as, "Stores for really great underwear," "Stuff to be happy about when it all hits the fan," and "Cars I've made-out in: year, make and model."
When the Babes have three drives of over 200 miles, we can't spend the WHOLE time talking about great literature. These self-guided journal topics are just a sampling of the fun, important and downright odd things we talk about in the van. Pick yourself up a copy or buy a set for your book club!