Diva Nation
… Where Music, Laughter and Girlfriends Reign
IT'S NOT JUST A MUSICAL REVUE… IT'S A STATE OF MIND!
"How can funny, sound this pretty" - BOSTON GLOBE
With their whimsical, hip and sophisticated girl-group harmonies, these hysterically funny and multi-talented musicians let loose on how the new millennium has, in some cases literally, changed the face of The Diva!  You can find her everywhere; in your office, your mall, your grocery store, she's cleaning up messes, and putting out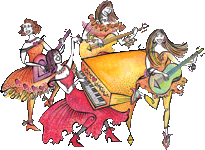 fires, possibly from her own hot flashes!  But there she is, in your mirror.  "HELLO DIVA!"
Come celebrate the "Inner Majesty" in us all. Let your

sense of humor be your ticket to a magical place where chocolate is a vegetable, wine is in the food pyramid, shopping for shoes is medicinal, and a girl can safely admit that she wears 100% cotton underneath it all!  Take this enchanting excursion to Diva Nation, where all songs are sung with pride, attitude, and terrific accessories!
You can listen to songs from Diva Nation by clicking here